| | | |
| --- | --- | --- |
| PAT700 Integration Services | | |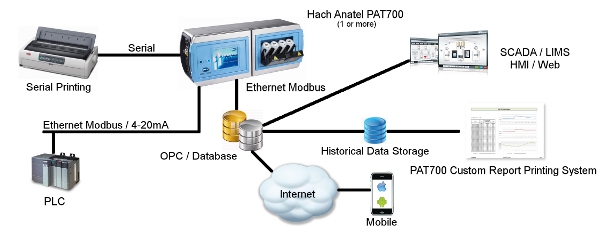 Design Solutions is the definitive source for all your Hach Anatel PAT700 integration needs. Whether you need to connect your PAT700 to your existing PLC, LIMS or SCADA systems, have a need for printed or paperless reports, a system to provide you with email or text message alerts, or anywhere in between, Design Solutions can provide you with Innovative Solutions by Design.
PAT700 Custom Report Printing System - Our report printing system allows for completely custom or standardized PAT700 data reporting. These reports can be created on demand or scheduled to be automatically created on any regular schedule you may need. (see back of brochure)
PLC - Connect your PAT700 to your existing or new PLC system via Modbus or the 4-20mA interface. Programming services for most brands of PLCs is available. We also offer a complete PLC/Touchscreen turnkey solution. (see back of brochure)
SCADA/LIMS - Send TOC and Conductivity data, timestamps, curves and more to your SCADA or LIMS for data archival, graphing, report printing and alarms.
Mobile Alerts - Get notified of alarm status, receive hourly TOC data updates, and much more—all from your mobile device via SMS text messages, emails or a web browser.
OPC Server - Share data from your PAT700 to many other systems using the gateway of an OPC server. SCADA, LIMS, PLC and SPC systems are just the beginning of the possibilities. If you don't already have an OPC server in place, no problem. We can assist with that too.
Historical Data Storage - Available as either a standalone solution or as part of our PAT700 Custom Report Printing System, our Historical Data Storage solutions allow you to store your PAT700 data securely by utilizing the power of SQL databases. Data can then be archived and backed up for as long as you deem necessary, or queried for customized reporting, all while maintaining 21 CFR Part 11 compliance.
Serial Printing - Connect your PAT700 to a serial printer for quick and simple data printing on the fly.
Contact Design Solutions today for a free application review, consultation and quote.
Horner XL Series OCS Integration
Integrating your Hach Anatel PAT700 with a Horner XL series OCS via MODBUS Ethernet can greatly increase the productivity and functionality of your PAT 700. Some of the value added features of the XL series OCS when integrated with PAT700s include:
Low overhead web server for direct access to your PAT700 data from your desk or anywhere in the world with internet access
Fully customizable alarms viewable on the XL series OCS screen or deliverable via email or SMS text messaging
Sun-readable, touch screen interface (32000+ colors on select models) with animated graphics for quick data readings—even if the XL series OCS is nowhere near your PAT700s
Integrated I/O on the XL series OCS expands the data capabilities of your system by allowing seamless integration of pressure sensors, flow sensors, thermocouples or other sensory equipment
XL series OCS systems can also be integrated with either new or existing PLCs, OPC servers, SCADA or LIMS systems to increase the seamlessness of data acquisition and data flow throughout your process